Rosslyn Smith
American Thinker
5/5/2011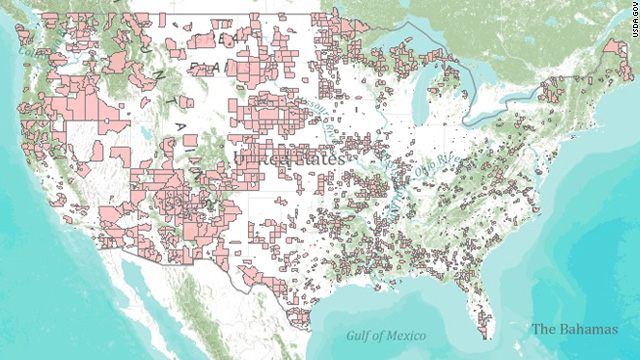 What is wrong with this picture?
Let's start with what it is supposed to be. Those peach shaded areas spread across vast reaches of the American landscape are supposed to be our nation's so called food deserts. What is a "food desert"? According to those who presume to rule over us (or as it is officially known, the working group of the Healthy Food Financing Initiative [HFFI], a partnership between the Treasury Department, Health and Human Services, and the Agriculture Department [USDA]), a food desert is:
a low-income census tract where a substantial number or share of residents has low access to a supermarket or large grocery store:

To qualify as a "low-income community," a census tract must have either: 1) a poverty rate of 20 percent or higher, OR 2) a median family income at or below 80 percent of the census tract's median family income;

To qualify as a "low-access community," at least 500 people and/or at least 33 percent of the census tract's population must reside more than one mile from a supermarket or large grocery store (for rural census tracts, the distance is more than 10 miles).
The HFFI is a key part of Michelle Obama's Let's Move initiative. HFFI is supposed to expand the availability of nutritious food to food deserts by developing and equipping grocery stores, small retailers, corner stores, and farmers' markets with fresh and healthy food…
…I find it hard to take a government initiative seriously when areas it labels "food deserts" include some of the most productive agricultural land on the planet.  Note that some peach areas in Virginia are in the legendarily fertile Shenandoah Valley.  Talk about carrying coals to Newcastle!  Where exactly do the members of the working group of the HFFI think that the food in their grocery stores and farmers' markets came from?  Much of the seasonal produce they eat in Washington DC comes from the Shenandoah Valley…
Read the entire article at American Thinker.