Anita MonCrief
HotAir.com
The Greenroom
10/21/2010
What happens when citizens decide to stand up and ensure the integrity of elections? In the age of Obama, they are investigated by the Department of Justice.
From the Washington Examiner Washington Examiner:
"Obama's Department of Justice has suddenly turned on a dime, becoming the great pro-active protector of voters' rights:

'Poll watchers in Harris County, Texas — where a Tea Party group launched an aggressive anti-voter fraud effort — were accused of "hovering over" voters, 'getting into election workers' faces' and blocking or disrupting lines of voters who were waiting to cast their ballots as early voting got underway yesterday.

Now, TPMMuckraker has learned, the Justice Department has interviewed witnesses about the alleged intimidation and is gathering information about the so-called anti-voter fraud effort….

Terry O'Rourke, the first assistant in the Harris County Attorney's office, told TPMMuckraker that there have been allegations of poll watchers talking to voters, which they are not allowed to do, as well as hovering over voters as they are waiting to vote. He said the complaints came from Kashmere Gardens, Moody Park, Sunnyside and other predominantly minority neighborhoods of the county.'

…Obama's politicized Justice Department has already lost all credibility when it comes to even-handed administration of justice on this matter. They let the Black Panthers off with one wrist-slap and two complete dismissals after their flagrant voter intimidation was caught on tape. Now they're worried about poll watchers "talking to voters," at a time when local Texas officials are preventing people from voting if they are wearing Gadsden Flag pins?"
An interesting fact about this so-called investigation is that the group, True to Vote, had already contacted the DOJ regarding the extreme irregularities related to the voter registration drives in the state.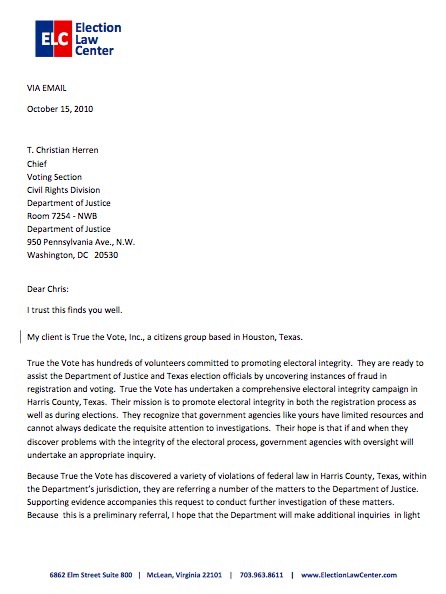 DOJ whistle blower J. Christian Adams writes:
"True the Vote has hundreds of volunteers committed to promoting electoral integrity. They are ready to assist the Department of Justice and Texas election officials by uncovering instances of fraud in registration and voting. True the Vote has undertaken a comprehensive electoral integrity campaign in Harris County, Texas. Their mission is to promote electoral integrity in both the registration process as well as during elections.

They recognize that government agencies like yours have limited resources and cannot always dedicate the requisite attention to investigations. Their hope is that if and when they discover problems with the integrity of the electoral process, government agencies with oversight will undertake an appropriate inquiry.

Because True the Vote has discovered a variety of violations of federal law in Harris County, Texas, within the Department's jurisdiction, they are referring a number of the matters to the Department of Justice

Because the Department has civil oversight of the Help America Vote Act, and criminal oversight of non-citizen participation in federal elections, I presume that the results of this secondary inquiry will be of great interest. In the meantime, I believe there is sufficient evidence to open an investigation into whether or not non-citizens are being improperly registered to vote in Harris County. As you know, the Department has conducted extensive litigation throughout Texas to enforce Section 203 of the Voting Rights Act. My client would urge you to consider tackling problems of registration fraud there with similar zeal."
Adams includes a number of exhibits with the letter to illustrate possible voter fraud…
…The recurring theme of the Obama administration is corruption and instead of being lauded for being responsible citizens, True The Vote has been sued, harassed, and accused of voter intimidation…
…In 2006, the Election Assistance Commission gave a grant to ACORN's Project Vote to recruit college students for poll worker training.
Not only does Project Vote have a history of engaging in election season shenanigans with ACORN involving thousands of duplicate registrations, but the group's reporting on the grant is pure fiction. In a 2007 email, Nathan Henderson-James of ACORN Political Operations advises staff on how to "make it look good" regarding the money given to tax exempt Project Vote and used by ACORN….
Read the entire article, which contains several images of letters and documents, at The Greenroom at HotAir.com.
Anita has a related article at HotAir.com, Obama's Project Vote pushes bigger government and demonizes Tea Party Movement, Washington Post follows its lead in which she exposes the relationship between Project Vote and Frances Fox Piven.
Anita has established a new blog, Emerging Corruption.